Precise laser cutting of 3D plastic components
The non-contact laser cutting system from Jenoptik provides a quick way to process plastics. The non-wear process from Jenoptik guarantees low maintenance costs.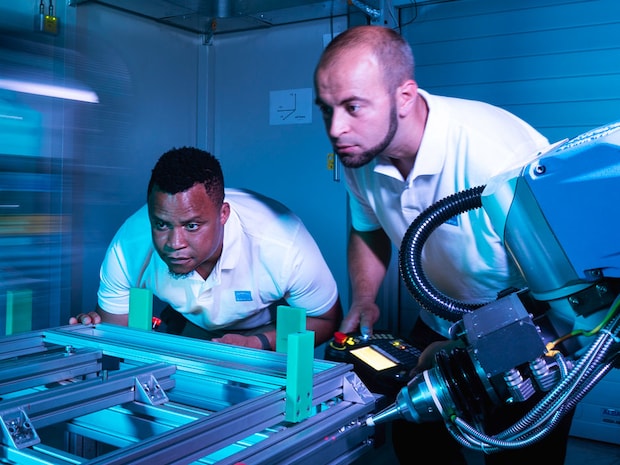 Jenoptik is one of the leading manufacturers of laser machines and laser systems for material processing. We develop and build precise and efficient laser machines for your specific production tasks. This is how we open up new manufacturing perspectives for you. Your process requirements, production environments and specific goals are our benchmark. That is why we configure and optimize our modular standard platforms in close cooperation with you to create a customized solution - because progress needs an excellent basis.
Jenoptik experts will help you to find the best processes for your laser application in production, allowing you to process different materials such as plastics, semiconductors, textiles and leather efficiently and cost-effectively. We offer highly developed laser beam sources such as diode, solid-state and fiber lasers, as well as laser machines tailored to the relevant process. These are ideal for a range of different industries — from the automotive industry to sciences.
Laser Cutting System JENOPTIK-VOTAN® BIM: Clean-Cut Demonstration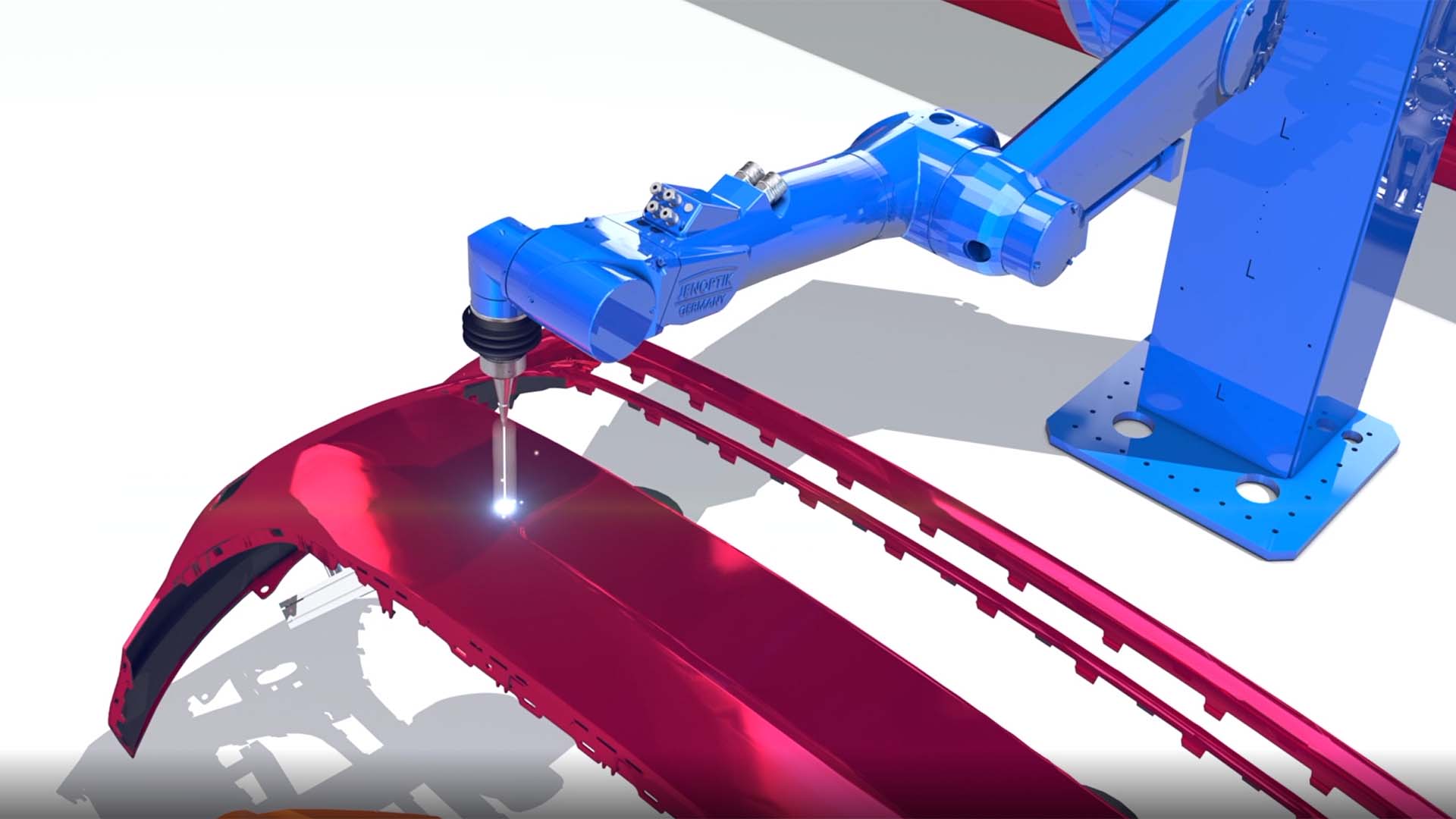 Our customer application center also gives you the opportunity to use all of our series production systems in a targeted manner — tested on your own products under real conditions. You can choose from 15 different laser systems and machines, and will be assisted and advised by our highly qualified engineers. The application centers give you the opportunity to develop your production processes in a sustainable manner. Your feedback will also help us to continuously improve our own products.
With the laser technology from Jenoptik, you can cut plastics efficiently and flexibly in a process that is gentle to the material, delivering the best-possible laser cutting results. You can tailor the energy applied precisely to the machining process in question, preventing the material from warping or overheating and saving you time and money.
JENOPTIK-VOTAN® BIM Laser Cutting Machine: High-Precision 3D Cutting of Plastic Parts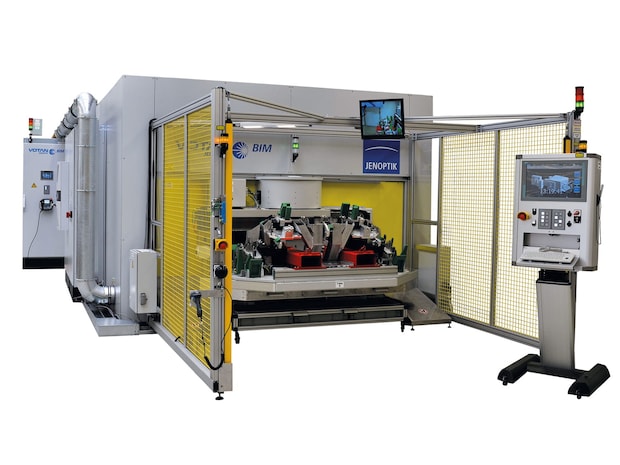 With the laser cutting machine from Jenoptik, you can process 3D components at high speeds according to your exact specifications. The JENOPTIK - VOTAN® BIM laser cutting machine is ideal for 3D laser cutting of plastics. The innovative robot technology processes complex components— quickly, effectively and precisely. It sets new standards, particularly in the automotive industry.
Our mirror system inside the lightweight robot guides the light onto the cutting head. The individual mirrors are actively cooled, and precisely guide the beam through all axes. There is no need for a moving light guide cable, which makes the laser cutting machine very streamline and lightweight. The cutting head has plenty of room, and is therefore very mobile, allowing access even to places that are hard to reach.
The laser cutting machine is the ideal tool for processing 3D components. Even with the extremely short cycle times, the contours are cut incredibly precisely. The high cutting and adjustment speed significantly accelerates the process. The system is dynamic and can be perfectly tailored to the component.
Thanks to the modular structure of the core components, the laser cutting machine can be effortlessly integrated into your system. The compact system design ensures that both commissioning and service costs are kept to a minimum. You will receive a reliable laser system that is already used successfully by over 200 companies in the automotive industry. We would be happy to develop a laser cutting machine specifically tailored to your needs verified in our advanced application center.
JENOPTIK – VOTAN® BIM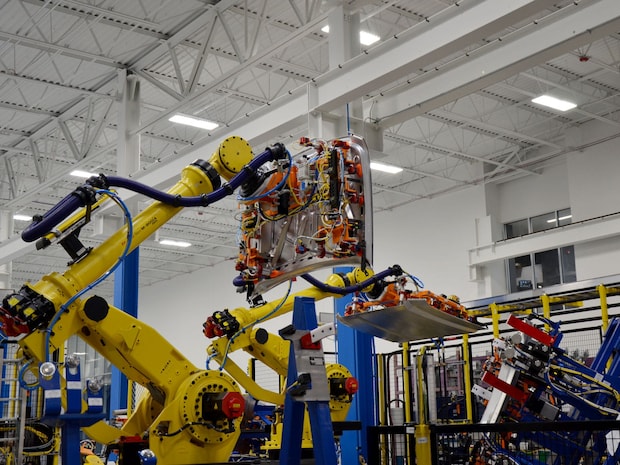 The concept behind the JENOPTIK – VOTAN® BIM series is based on a beam guide inside the robot. Different laser sources with a power of up to 1.5 kW can be used without the need for a complex external beam guide. Several laser cutting robots can be integrated into a single machine in order to achieve a higher output by parallel material processing at a significantly reduced floor space. Furthermore our robot based machines are the first to enable a complete line integration of the laser cutting process.
Turnkey system
JENOPTIK – VOTAN® BIM is a highly flexible plug & play system. It can be equipped with the suitable laser for your specific plastic or metal application. As an option, we provide integrated solutions for waste disposal and exhaust air cleaning. To increase the working envelope and productivity two robot modules can be placed into one standard machine setup at nearly the same footprint.
Customized solutions based on BIM modules
The JENOPTIK – VOTAN® BIM modular set up enables customized laser processing systems for laser cutting at higher automation levels. By arranging multiple robot systems and multi purpose fixtures inside of a single cell the productivity per floor space can be dramatically increased. The target of JENOPTIK – VOTAN® BIM is to accompany our customers on the way to a fully integrated and automated laser cutting machine.
Automated lines for car body assembly
Beyond laser cutting our extended know how in the field of customized automation will benefit you with tailored robotized solutions for material processing needs like welding, hemming, gluing, riveting and other joining technologies.

A clear focus on fully line integrated systems, maximum throughput paired with highest flexibility is our driving factor for your next project.
Download
Benefits Laser Cutting Machine
Extremely fast: The laser processes 3D components at top speed.
Precise: The laser cutting machine precisely follows the contour and ensures maximum accessibility to the workpiece.
Powerful: Laser power of up to 1.5kW possible.
Energy-efficient: Based on our reliable fiber laser technology and CO2 laser technology.
Cost-effective: Minimal operating costs and service costs.
Reliable: Over 200 laser processing systems currently used successfully in automotive manufacturing.
Fields of Application
Automotive industry: 3D laser processing of plastic and metal components.
Household technology: Laser cutting of housings and plastic components.
Please contact us for more information.