RecommendMail Facebook LinkedIn
レーザー加工用 Fθレンズ
レーザービーム誘導システムの高度要件を満たす強力でタフなレンズ
Lasers are optimal tools for processing materials quickly and efficiently. For example, either metal or plastic can be drilled, cut, engraved, structured or marked using lasers. Our high-performance F-Theta objective lenses can be used for specific areas of application or laser types and offer optimum beam quality, high precision and robust design. Jenoptik has especially developed F-Theta JENarTM lenses for lasermaterial processing that requires medium and high laser outputs. They are available for wavelengths ranging from 355 to 1080 nm. For applications requiring high-power and short-pulse lasers, our full quartz F-Theta JENarTM SilverlineTM objective lenses are the suitable choice. They are available in wavelengths from 266 to 1100 nm. The JENarTM APTAlineTM series completes the Jenoptik portfolio in that Product range. These serie offers a cost-optimized solutions for demanding applications where reliability, series stability and durability are important. JENarTM APTAlineTM objective lenses are available in wavelengths from 355 to 1080 nm.
Jenoptik Fθ対物レンズ
Discover the benefits of the Jenoptik F-Theta product families
極めて堅牢
低汚染組み立て技術:接着剤や潤滑剤は使用せず、クリーンルームで組み立て
柔軟性
コンポーネントをどのような既存システムでも素早く容易に組み込み
お客様に合わせた設計
標準化されたソリューションとして、または個別ニーズに合わせて
高効率
光学アセンブリーのFEM解析により、熱的ストレスと、機械的ストレスを監視しコスト低減
High efficiency and optimal process results in solar cell manufacturing
Jenoptik introduces F-Theta high-power objective lens JENar™ Silverline™ 340-355-332-S for ultra-short-pulse laser applications.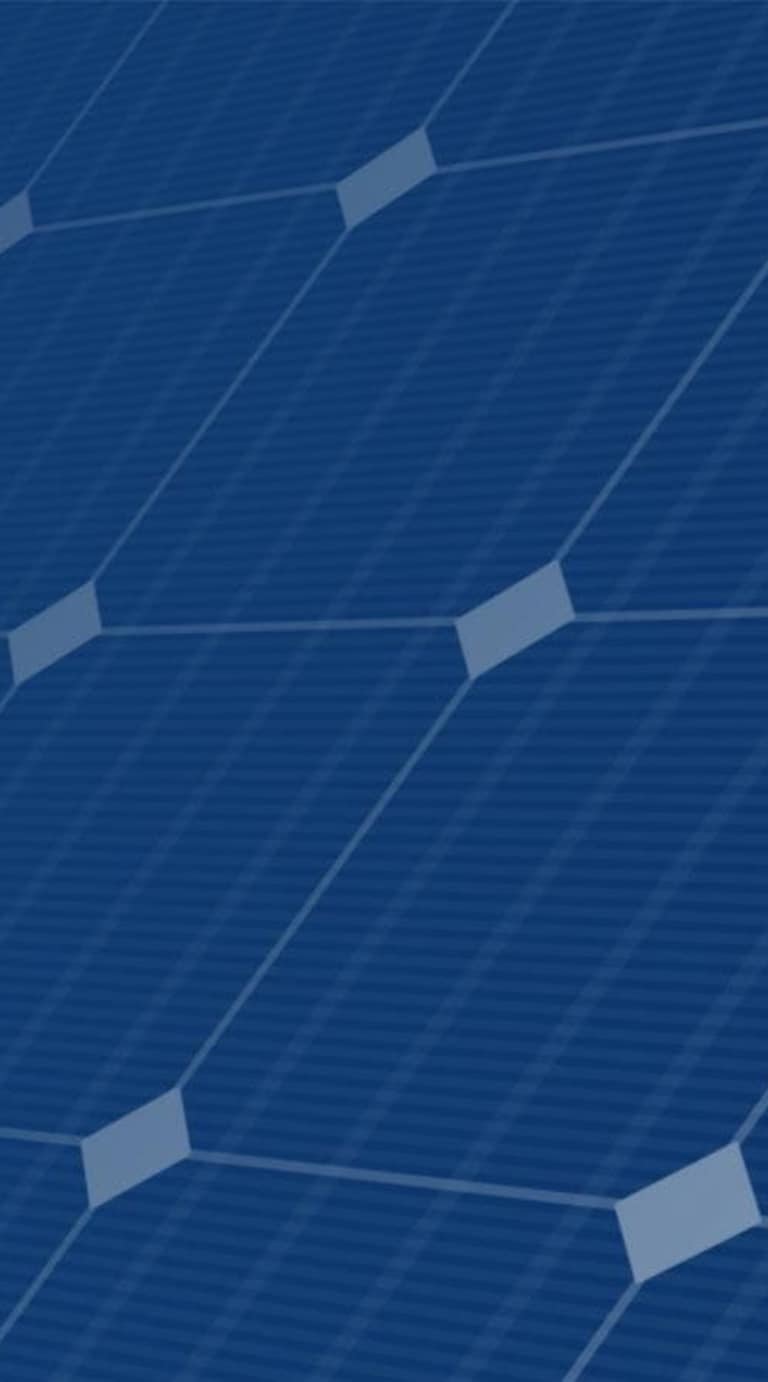 NEW: High-power F-Theta objective lens – made for precise and reliable laser structuring of solar cells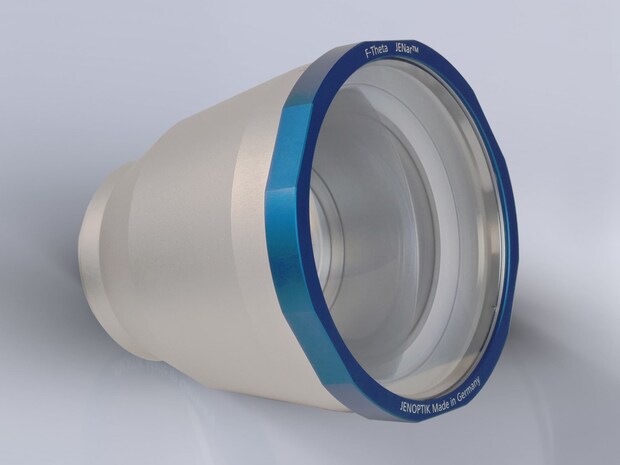 The Jenoptik high-power F-Theta lens JENar™ Silverline™ 340-355-332-S is specially designed for UV applications in the wavelength range of 340-355nm.
It can achieve particularly small spot sizes of up to 17 µm – and that with a large scan field of 235 by 235 mm. In this way, very small structures in the micrometre range - as required for the production of G12/M12 cells (size of 210 x 210 mm) - can be realised very efficiently and quickly. Excellent LIDT values also ensure that the high-performance objective lens works reliably in demanding applications such as laser structuring using ultra-short pulse lasers. A sophisticated optical design and high quality standards in manufacturing ensure reliable and homogeneous results across the entire working field.
This high-performance fused silica objective lens is based on the proven Jenoptik´s mechanical and optical design and subject to the same high-quality standards.
Special low-contamination mounting technologies and the assembling in certified clean room makes this F-Theta lens extremely durable.
Benefits
Realizes small spot sizes down to 17 µm
Large scan field with a diameter of 332 mm
Excellent LIDT-Values make it the optimal choice for ultra-short-pulse laser applications
Extreme durable due to sophisticated mounting and assembling
High damage threshold thanks to low-absorption anti-reflective coating
Fitting your application? Find out here:
For more technical details and specifications on that new F-Theta lens check out the datasheet or download your technical file:
常に市場を見据えて
お客様、市場、産業用途との近接を生かし、弊社は、進化するニーズと合わせ、レーザー加工における製品ポートフォリオを拡大してきました。
高出力Fθ JENar™ Silverline™ 対物レンズ
355 nm用から1080 nm用までのFθ JENar® Silverline™対物レンズ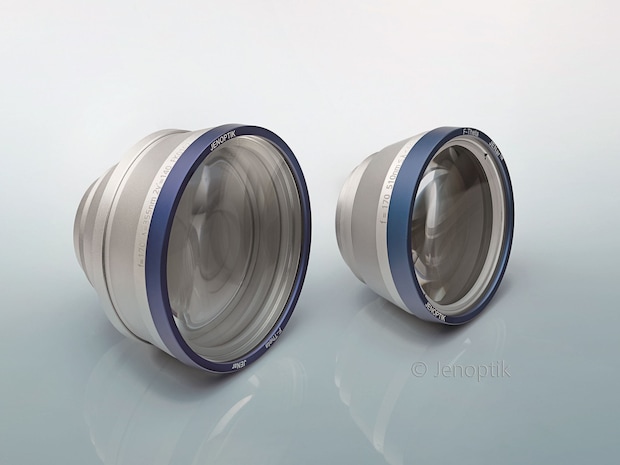 JenoptikのSilverline TM Fθレンズは、高出力レーザーと短パルスが必要な用途向けに特別に開発されました。特に高いレーザー出力を提供するために、これらのレンズは、すべて低吸収の石英ガラスで構成されています。266 nm、355 nm、1030~1080 nm、 900~1100 nm 用があります。
Silverline TM Fθレンズは回折を制限し、高い画質を実現します。また、損傷に対して高い耐性があり、スキャン範囲全体で高いスポット均一性が得られます。Silverline TM レンズは、 4 kWのビームパワーまでは能動冷却を必要とせず、高出力レーザーでも、最小限の焦点シフトを保証します。
特に、Silverline TM Fθレンズ 170-355-140 は、355 nm の範囲をカバーします。最大テレセントリック角度はわずか 4.9 度です。100 x 100 mm の作業領域全体に均一なスポットサイズ分布が得られます。この大きな作業領域と回折限界の画質で、特許取得済みの革新的な組み立て技術により、従来のレンズと比較して、生産量を向上させることができます。
高出力用 Fθ JENar™ APTAline™ 対物レンズ
355 nm用 から 1080 nm用 までのFθ JENar® APTAline®対物レンズ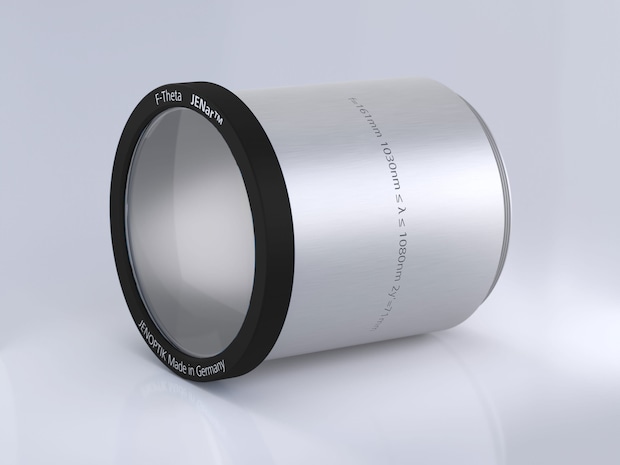 新しい JENar® APTAline® シリーズでは、お客様のニーズに最適に合わせたレンズを提供しています。これは、 APTAline® シリーズによって、絶えず変化する業界のニーズに対応し、用途範囲を拡大できることを意味します。
石英ガラス高出力用レンズは、信頼性、シリーズ安定性、耐久性が重要な条件の厳しい用途で、コスト面で最適化されています。波長については、1030 nm用から1080 nm用までです。APTAline® レンズは、実績のある機械設計と光学設計に基づいており、弊社の他の Fθ製品と同じ高い品質規格に準拠しています。
* 近日中に提供予定。納期についてはお問い合わせください。
Low-power objective lenses F-Theta JENar®
355 nmから 1080 nm までの波長に対応する Fθ JENar® レンズ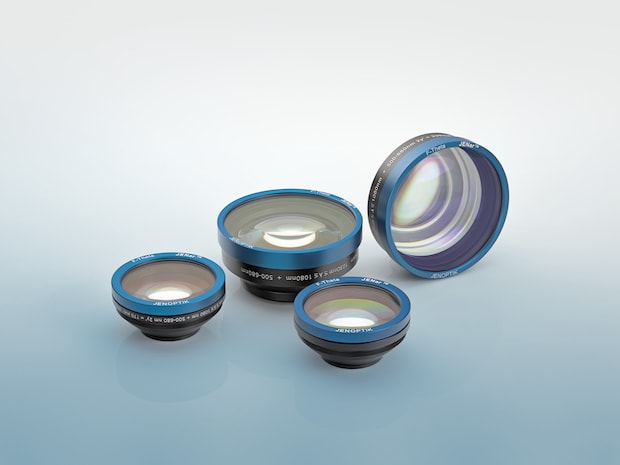 Fθ JENar® レンズは、微細材料加工、特にマイクロストラクチャリングや、様々な材料のマーキングやラベリングに適しています。
JENar® シリーズは 、UV、VIS、IR 範囲のレーザー波長に使用されますが、355 nm用から1080 nm用まであります。標準レンズは、保護ガラス付きで、非常に高い耐久性があります。
これらのレンズは、利用可能な STEP ファイルを用いて、あらゆるシステムに素早く容易に組み込めます。各レンズにアプリケーション固有の標準テストを行うことで、量産で一貫した光学特性が保証されます。標準テストによって、レンズの交換が容易になり、寿命を延ばすことができます。
光学機器および光学システムのお問い合わせ先
Here are some more interesting product recommendations