RecommendMail Facebook LinkedIn
Explore your micro universe with JENOPTIK GRYPHAX® cameras for micro photography
Making the hidden visible: in Life Science & Medical Science, Material Science & Manufacturing, Education
The fascination with the unknown drives human curiosity. The strong drive to explore things motivates us to come up with new ideas. It encourages us to comprehend the intricacy of our world in the past and present and to positively influence it in the future. Making the hidden visible with the help of micro photography enables the constant renewal of individual building blocks of knowledge and the ongoing pursuit of completing a puzzle. This is how our overall picture is perpetually being updated.
Jenoptik brings together the curious people, their technical knowledge, their application know-how and their pioneering spirit. This combination of precision and intelligence creates products and solutions which set impressive standards.
JENOPTIK GRYPHAX® cameras provide those who are searching for answers to their questions with a solid tool to gain new insights and to examine tiny details.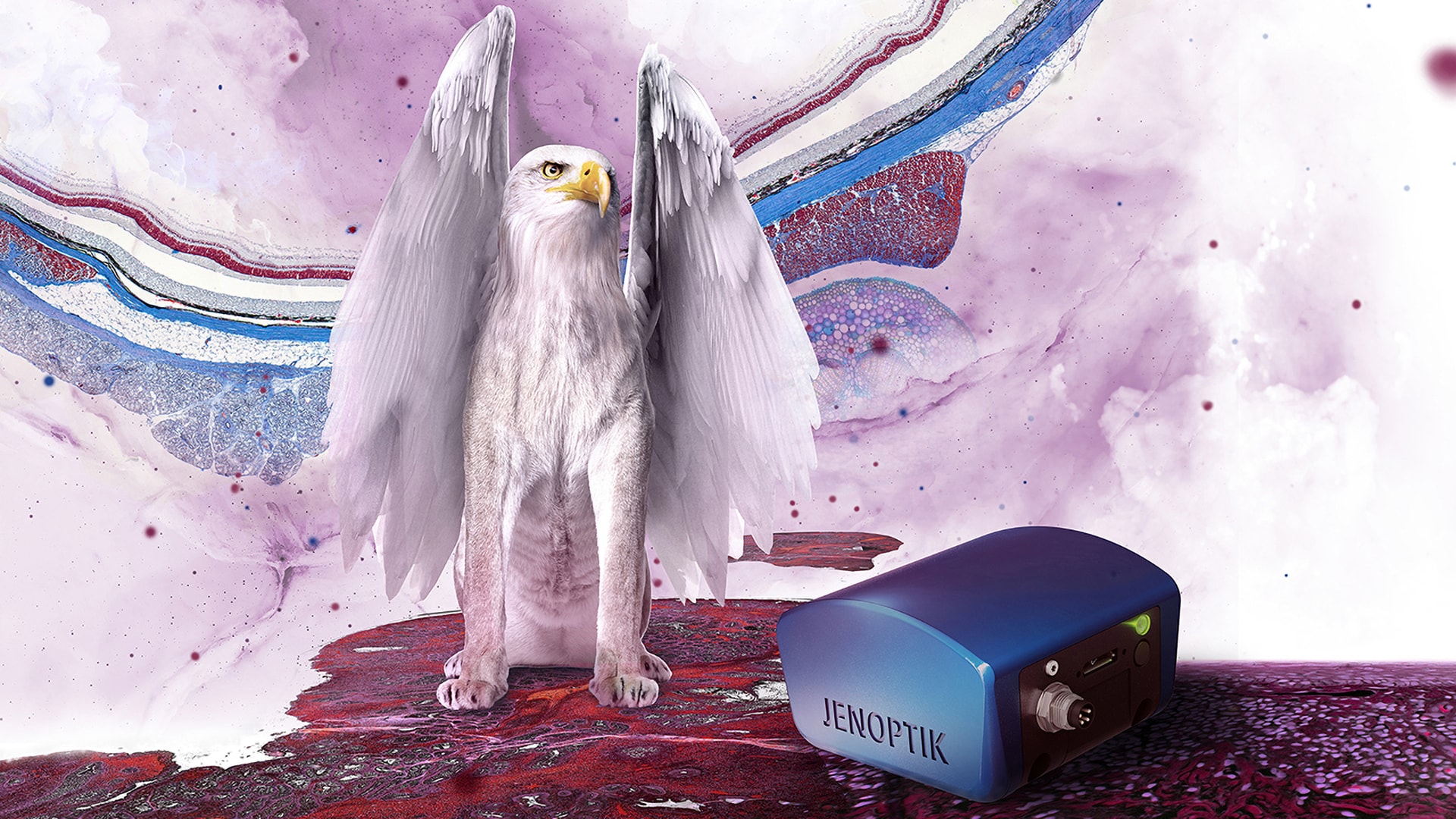 Discover unknown galaxies of the micro universe
The passion to bring the hidden into the light is inherent in both the users of Jenoptik's microscope cameras and that fantastic being called GRYPHAX. With the joint mission to explore unknown galaxies of the micro universe, the GRYPHAX accompanies the curious people, the researchers, the teachers and the innovators on their daily journey of discovery.
GRYPHAX combines brilliant vision, a huge wingspan, dynamic maneuverability, bounce and surefootedness.
The GRYPHAX® cameras produced by Jenoptik are its users' eagle eyes, which provides a secure footing for their decisions and inspires them with a simple, stable and flexible application.
IMAGE QUALITY -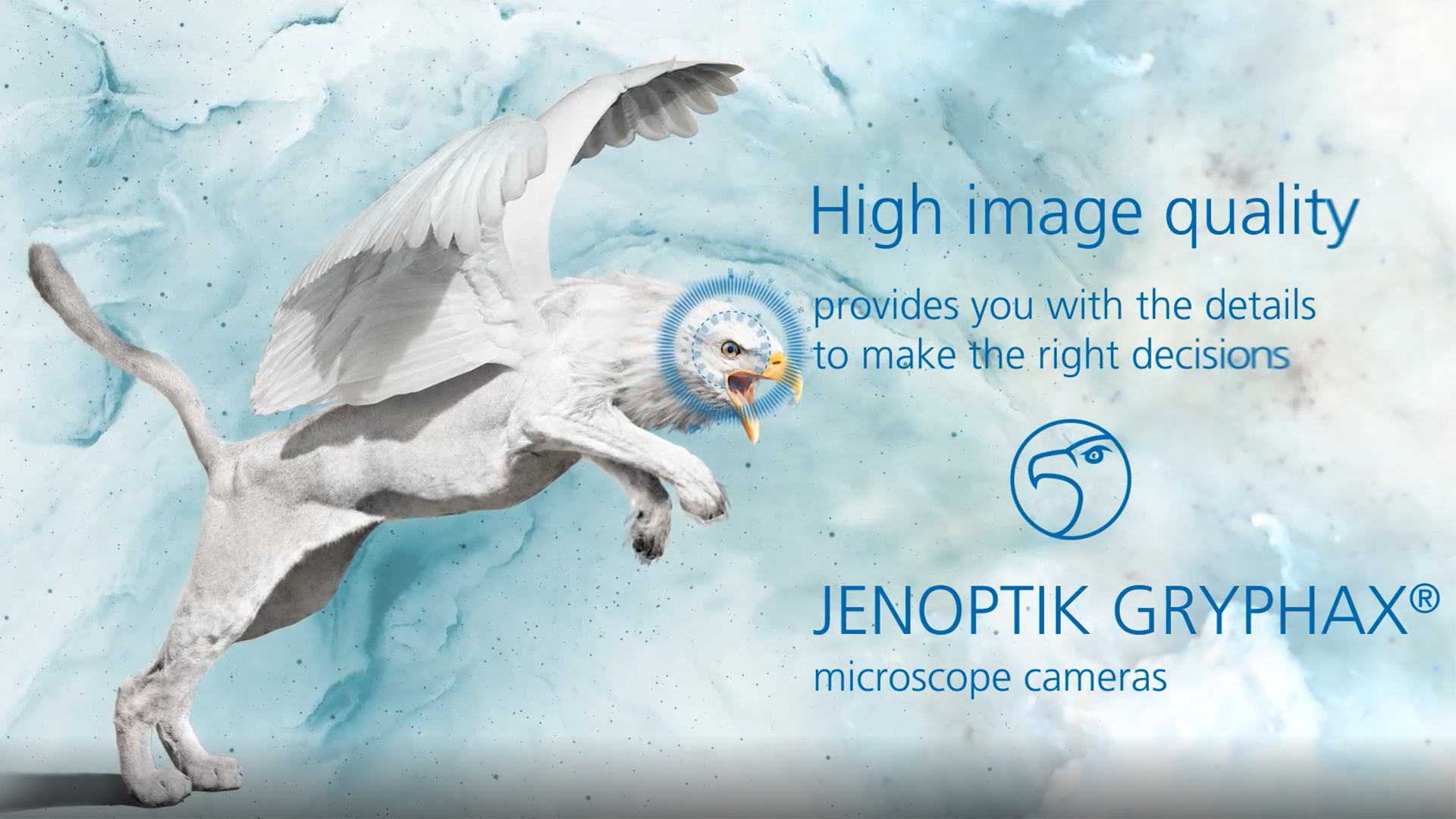 GRYPHAX' eagle eyes do not miss a single detail
Extraordinary vision as well as the ability to perfectly detect the tiniest color detail are the GRYPHAX®'s key features. Based on JENOPTIK's true-color know-how and spectrally measured sensors, JENOPTIK GRYPHAX® cameras deliver brilliant image quality in micro photography.
JENOPTIK GRYPHAX® cameras ensure brilliant low-noise image results, which provides a reliable basis for your decision-making. If your decisions depend on the tiniest details and color gradients, then the value of your work will be ultimately defined by a good camera. You should be able to see all the valuable image details provided by your microscope on your monitor screen with almost no image loss.
EASE OF USE -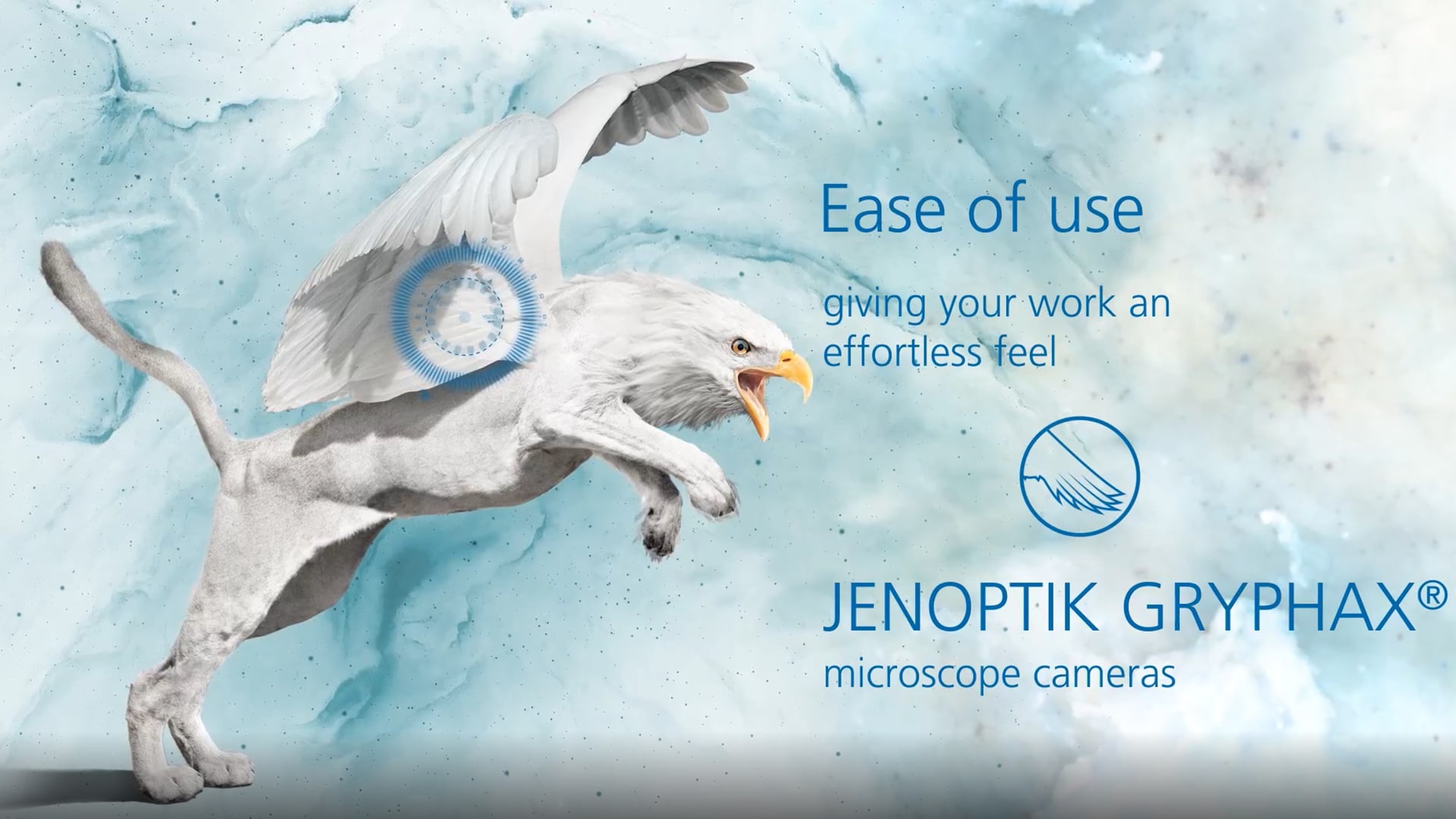 GRYPHAX's powerful wings make your image analysis fly
The magic is in the details. This does not only apply to the smallest building blocks of knowledge which scientists constantly use to complete the overall picture. This also goes for the workflow that leads to the goal. GRYPHAX's large wings carry you effortlessly through your micro universe.
JENOPTIK GRYPHAX® cameras pave your way, the path that has to be followed in order to arrive at the individual results and the new findings. Sophisticated features of the JENOPTIK GRYPHAX® software included in the package contents such as auto brightfield setup, panorama or z-stacking tool facilitate image aquisition and analysis. User-friendly workflows will inspire your day-to-day activities.
VERSATILITY -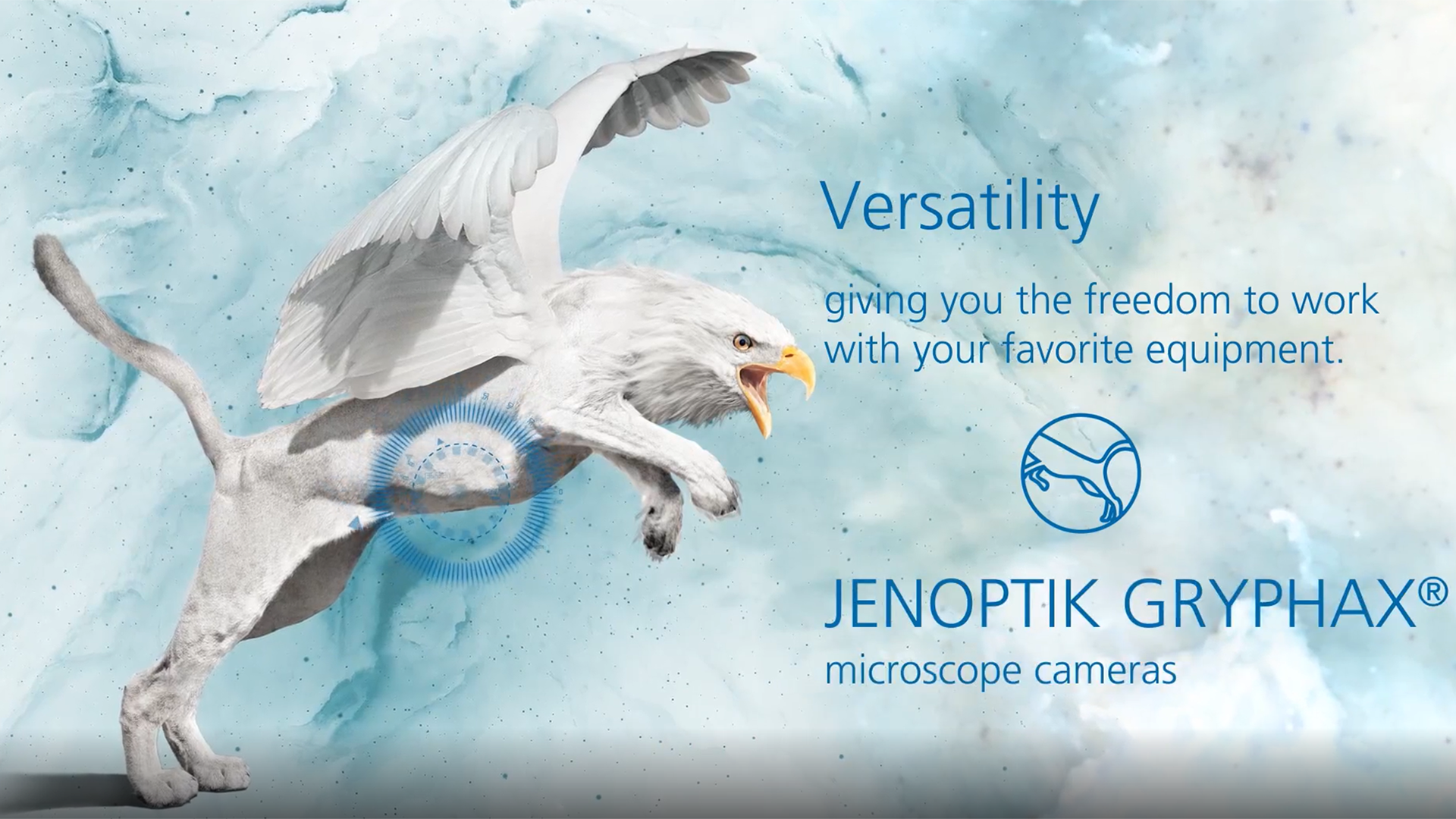 GRYPHAX's on-call agility ensures flexible manoeuvrability
Flexibility can be a great advantage in a dynamic environment. The muscular, cat-like GRYPHAX® body reflects its instantly adaptable agility and resilience. GRYPHAX's remarkable power provided by versatile software options allows flexible agility of your microscopy system.
JENOPTIK GRYPHAX® microscope cameras are the right choice when it comes to flexibility. The adaptability of JENOPTIK GRYPHAX® cameras gives you the freedom to work with your favorite equipment - no matter which brand of microscope, no matter which operating system. In addition to the GRYPHAX® software included in the delivery, there are further possibilities to integrate 3rd-party software, free drivers or a free SDK.
STABILITY -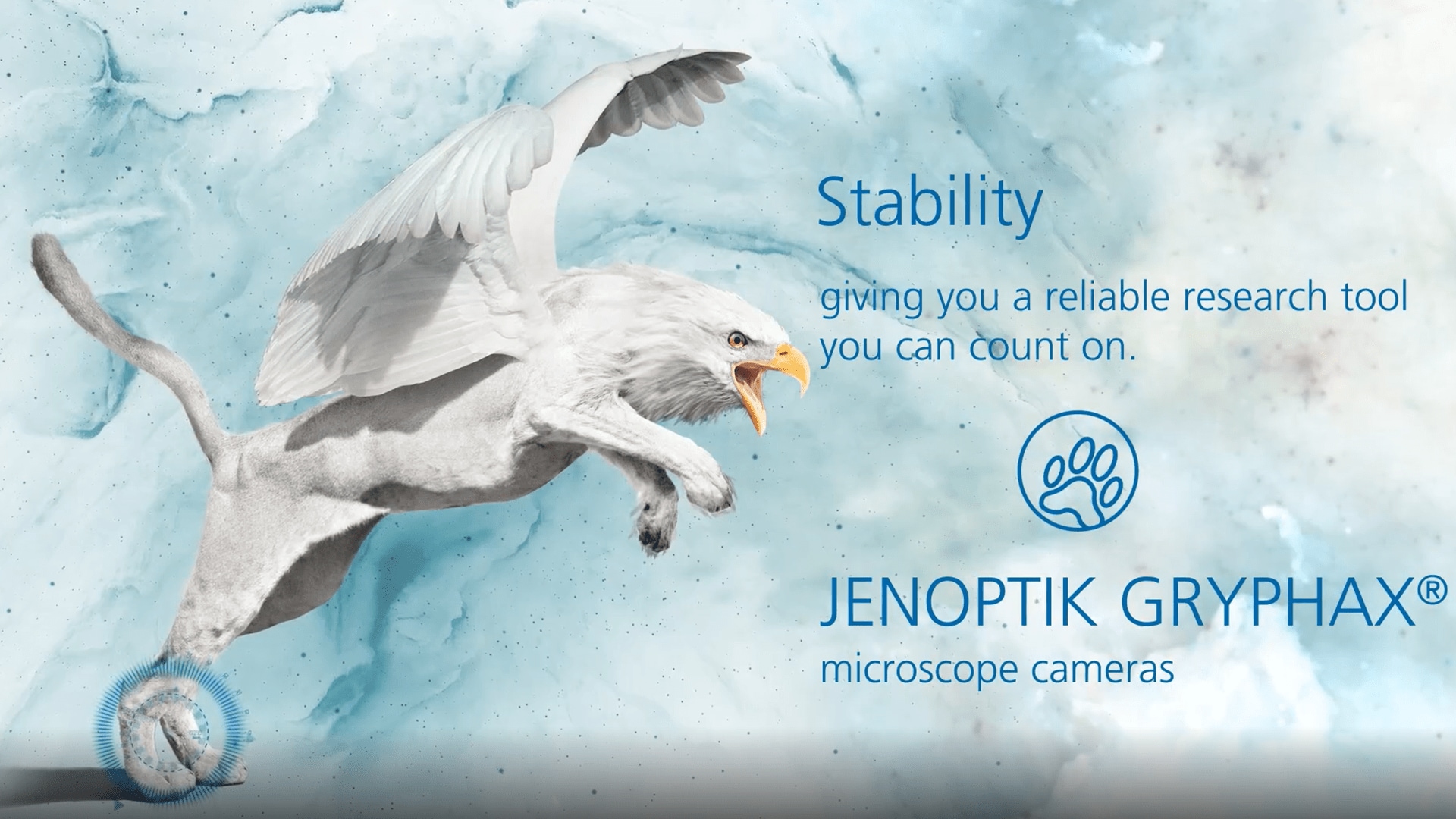 GRYPHAX's strong paws give confident grip
A healthy dose of curiosity, patience and confidence is required to evaluate facts or validate a new hypothesis. The strong, serrated paws of the GRYPHAX® symbolize an unparalleled firm grip that provides you with the necessary stability to break new scientific ground.
JENOPTIK GRYPHAX® cameras offer you the required foothold for responsible decision-making. In addition to knowledge and attention to detail, it is the precision and reliability of the work tools that provide secure foothold. Highly reliable hardware and stable software as well as the finest reproducible image details and color gradations guarantee the stability which will help you get the job done with confidence.
Explore your micro universe
Application Report | Blog
Microscope cameras help make hematology diagnoses
Blue depths and endless expanses – marine researchers at the University of Hawaii use a JENOPTIK GRYPHAX® camera
Microscope camera is used to analyze tiny details in marine microfossils
Genuine leather or imitation? In pursuit of quality with microscopy
Microscope images help archaeologists to solve the mystery of the Griffin Warrior treasures
Is CCD always better than CMOS?
Can CMOS replace CCD?
Find out more about the microscope cameras:
ご不明な点はございませんか?お気軽にご相談ください。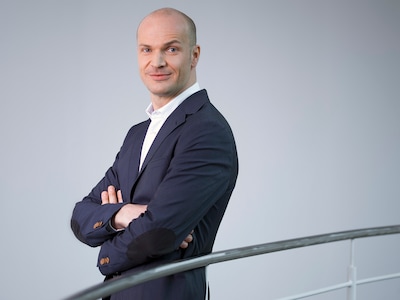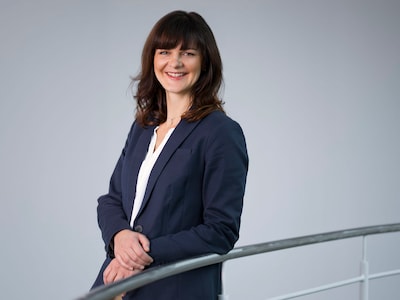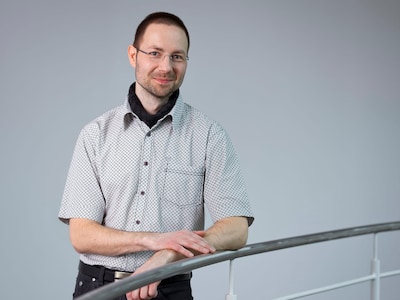 Stefan Seidlein
Product Manager
Anne Stiebich
Global Sales Manager
Daniel Kaiser
Service & Support Manager
GRYPHAX_China_Support_Fu
EditContact
Chris Zhu 朱辉
Sales Manager of Biophtonics