RecommendMail Facebook LinkedIn
Stationary thermographic cameras for maximum measurement accuracy
The industry-proven infrared cameras are easy to integrate into existing systems and equipment.
Jenoptik offers you various thermographic cameras for stationary use, for example in industrial plants or mobile systems. They are technical leaders and combine our many years of expertise in high-quality thermography technology. For more than 25 years, we have been developing and producing thermal imaging cameras for various applications. With 3.1 IR megapixels, we are the global technological market leader in the field for resolution.
The cameras enable you to measure temperature distributions on surfaces with the utmost accuracy. The data is transferred in real time to an external computer for detailed display and analysis. Standard interfaces such as WLAN, DVI-D or GigE-Vision ensure that you can easily integrate the infrared camera into your own system. The camera is used, for example, in solar power plants to measure the temperature of the absorber to prevent it from overheating.
The measurement method is non-contact and extremely accurate: High spatial resolution thanks to dynamic resolution enhancement ensures precise results. The process increases resolution and makes even the smallest details visible. Jenoptik has extensive know-how in high-resolution methods in radiometric-based thermal imaging cameras and is constantly refining the technology. All thermographic cameras are fitted in a robust housing which protects them effectively from damage, even under adverse operating conditions. Since uncooled Jenoptik thermal imaging technology is particularly low-maintenance, there are hardly any follow-up costs.
Benefits
Precise: Maximum measurement accuracy thanks to high spatial resolution
Efficient: Large measurement ranges are recorded in high resolution
Durable: Robust housing and minimal maintenance for Jenoptik uncooled camera technology
Flexible: Versatile connectivity options allow the thermography camera to be integrated into customized systems
Fast: real-time radiometric imaging
Modular: Choose from a wide range of high-quality infrared optics
Applications
Electronics industry and automotive: Quality control and assurance, process control, optimization and control
Research and development: Non-destructive testing of materials and components
Renewable energy: Solar power plants, aerial photography, environmental monitoring
Automation technology: Thermal test benches. Process monitoring, process optimization, process control
Process monitoring in the raw materials industry: System monitoring and system safety
Safety technology: Property monitoring, fire protection
Geology and environmental measurement technology: Aerial thermal photography
IR-TCM HD
Ultra-high image resolution of up to 3.1 IR megapixels
Wide measurement range
High thermal resolution
Interface options, including wireless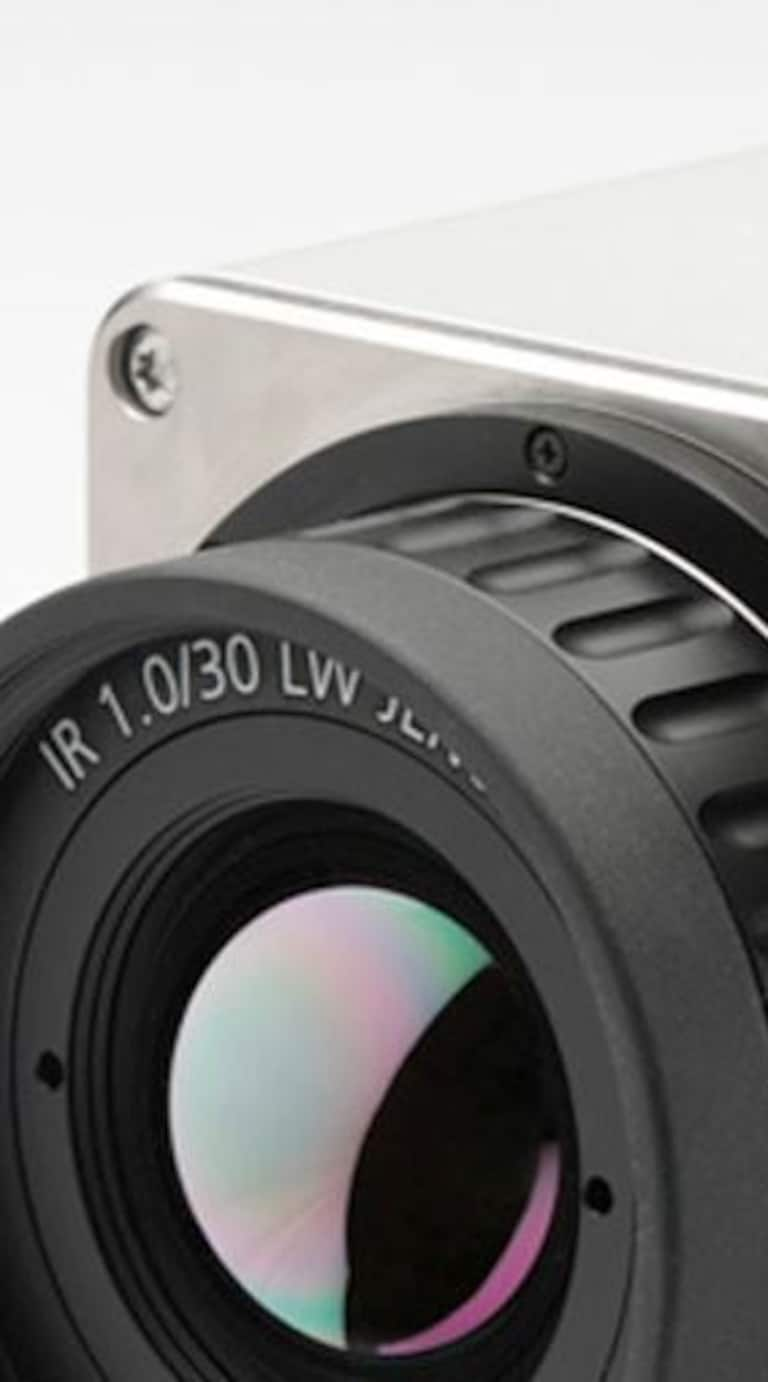 The IR-TCM HD series thermographic cameras measure surface temperatures in real time. The user uses the data to control or control industrial processes. Even minimal temperature changes can be detected thanks to the highest image resolution on the market of up to 3.1 IR megapixels. We achieve this by combining microbolometer arrays with the optomechanical resolution enhancement process.

Even large measurement ranges can be recorded extremely reliably without any contact. Since the technology is based on uncooled microbolometer arrays in conjunction with Jenoptik technology, the thermographic camera is virtually maintenance-free. The particularly robust design and the industrial-grade, very robust housing keep life cycle costs to a minimum.
IR-TCM HD basic
Entry-level camera into the world of professional thermography
Interface options, including wireless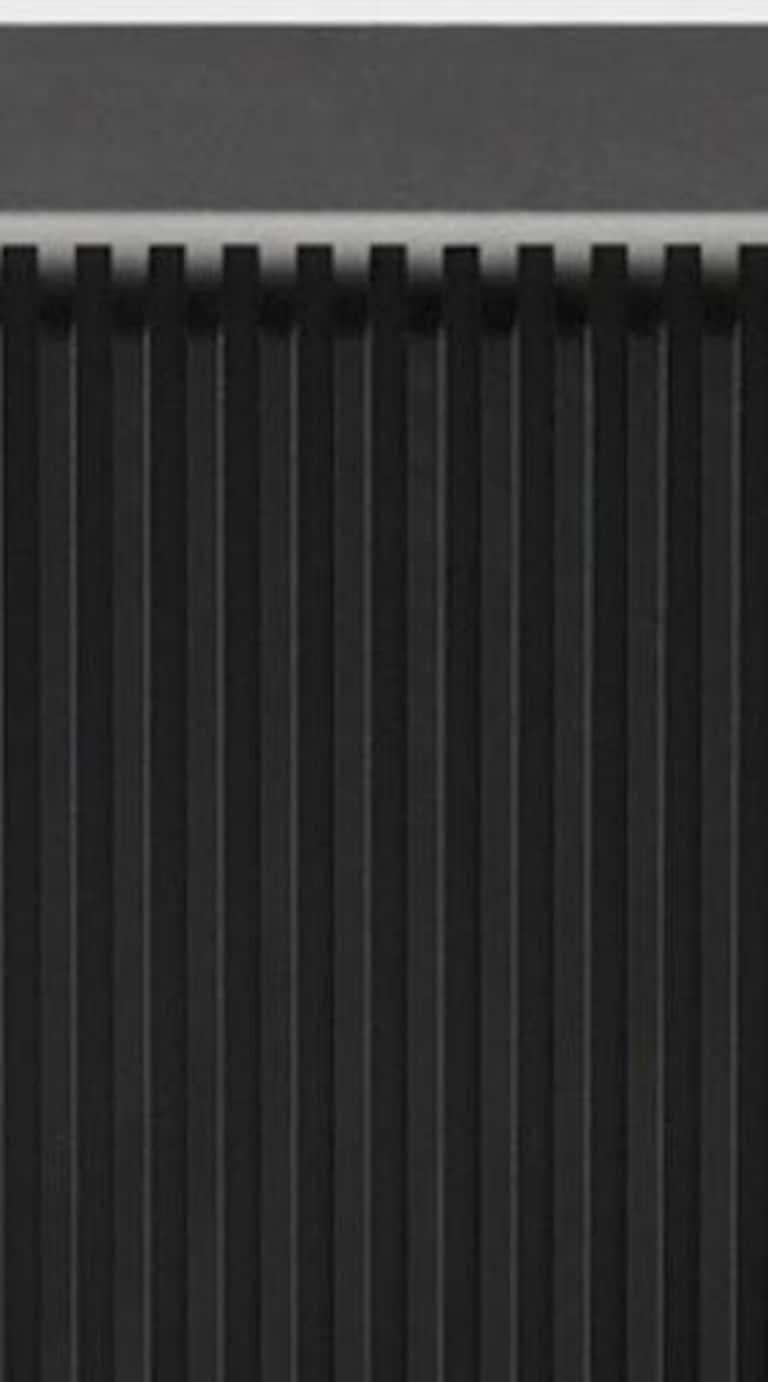 The IR-TCM HD Basic thermal imaging camera is the entry-level model from Jenoptik for professional use in stationary or mobile systems. The thermal imaging camera is based on state-of-the-art sensor technology with 17 μm pitch and optimized lenses.

The camera measures surface temperatures with an image resolution of 640 x 480 IR pixels in real time and transmits precise temperature data to computer systems. This allows you to reliably monitor or control industrial processes. Their technology is based on uncooled Jenoptik thermal imaging technology. This is why the thermographic camera is particularly low-maintenance. Robust construction and a rugged industrial-grade housing minimizes life cycle costs.
Blackbird precision
Small and lightweight
High thermal resolution
Wide range of lenses and converters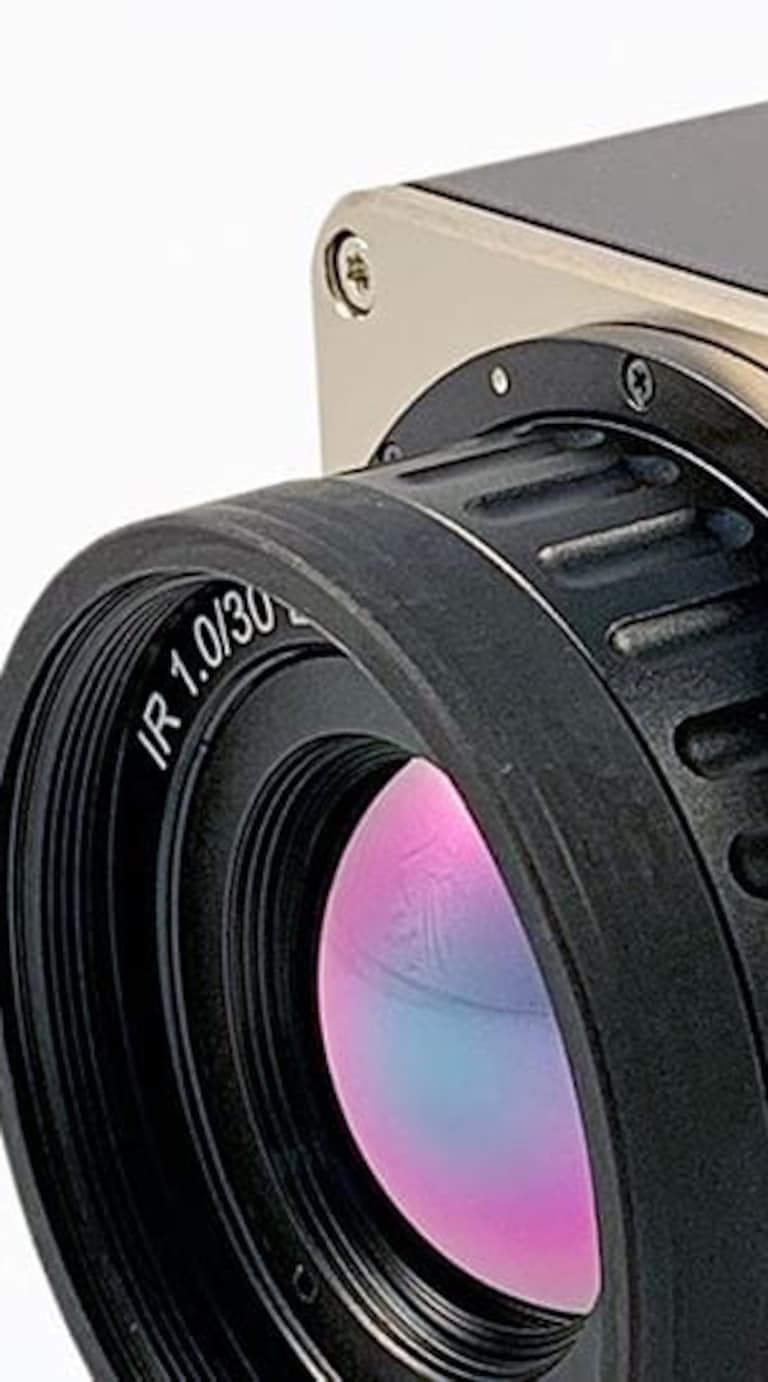 The uncooled thermographic cameras of Blackbird Precision feature compact dimensions, low weight and high thermal resolution. With a NETD of just 40 millikelvin, Blackbird Precision thermography cameras make even the smallest temperature differences visible and measurable. They are ideally suited for applications in the energy industry, food industry, manufacturing, and road & traffic – for example, monitoring traffic in tunnels. Standard interfaces and a compact design, featuring a IP40 protection rating, are an ideal prerequisite for integration into stationary monitoring systems.

Infrared lenses
Additional converters and a variety of Jenoptik infrared lenses, with focal lengths of 7.5 mm to 120 mm, are available for the Blackbird Precision thermographic camera. This means that the thermographic cameras can be optimized for almost any application. We calibrate the equipment in-house, so the camera and lens form an optimally calibrated measuring instrument.
IR-TCM-HD technical details
Technical data (selection)
Description
f-stop/focal length

Field of view HFOV x VFOV
for XGA/1024 sensors

Minimal
focal distance

Super wide angle
1.0/7.5 mm

136° x 101°

200 mm

Wide angle
1.0/15 mm
68° x 51°

200 mm

Normal/standard

1.0/30 mm
32° x 25°

250 mm

Telephoto
1.0/60 mm
16° x 12°

650 mm

Super telephoto
1.0/120 mm

8.1° x 6.2°

2,000 mm

M 0.2x close-up lens for standard lens

IFOV 81 μm

137 mm

M 0.2x close-up lens for standard lens
IFOV 32 μm

47 mm

M 0.2x close-up lens for telephoto lens
IFOV 35 μm

100 mm

Downloads
Blackbird Precision technical details
Technical data – Blackbird Precision
Feature
Blackbird Precision XGA

Blackbird Precision VGA

Infrared detector:
Uncooled microbolometer array (FPA) 17-μm pixel pitch

Detector size:
1024 x 768 pixels

640 x 480 pixels

Frame rate:
30 Hz

30 Hz
Sub-framing and frame rates

640 x 480 pixels (@ 60 Hz)
384 x 288 pixels (@ 120 Hz)
1024 x 96 pixels (@ 240 Hz)

384 x 288 pixels (@ 120 Hz)

Spectral range:

8 μm to 14 μm

8 μm to 14 μm
Temperature measurement range:

- 40 °C ... + 1,200 °C

- 40 °C to + 600 °C
Thermal resolution (NETD):

≤ 35 mK

≤ 40 mK

Measurement accuracy (with 1.3/30 standard lens):

1,0 K (at 0 …100 °C)
1.5 K (at 100 … 1,200 °C)
2.0 K (at - 40 ... 0 °C)


2 K or 2%
Interfaces:
GigE Vision, 16 bit

Interfaces for remote control:
GigE vision, RS232

Dimensions (L x W x H):

125 mm x 90 mm x 95 mm
Weight:

1.0 kg (incl. 30 mm standard lens)
Environmental conditions:

Operating temperature range: - 25 °C ... + 50 °C (operational)
Impact: 25G (IEC 68-2-29)
Vibration: 2 G (IEC 68-2-6)
Protection class: IP40

Downloads
Comparison of IR-TCM HD and IR-TCM HD Basic 
Technical data (selection)
Feature
IR-TCM HD 1024

IR-TCM HD basic

Infrared detector:
Uncooled Microbolometer Array (FPA)

Uncooled Microbolometer Array (FPA), 17 μm pixel pitch

Detector size:
1024 x 768 pixels

640 x 480 pixels

Image resolution (max.)

2014 x 1536 IR pixels (RE mode)

640 x 480 IR pixels

Frame rate:
30 Hz (@ 1024 x 768 pixels)

30 Hz (@ 640 x 480 pixels)

Sub-image areas (subframing)

640 x 480 pixels (@ 60 Hz)
384 x 288 pixels (@ 120 Hz)
1024 x 96 pixels (@ 240 Hz)
384 x 288 pixels (@ 60 Hz)

Spectral range:

7.5 μm ... 14 μm

7.5 μm ... 14 μm

Temperature measurement range:

-40 °C ... +1,200 °C (optional: up to +2,000 °C)

-40°C ... +600°C

Resolution:

< 50 mK

< 40 mK

Measurement accuracy:

1.5 K or 1.5%

2 K or 2%

Interfaces:
GigE vision, DVI-D, C-Video, Wi-Fi (optional)

GigE vision, DVI-D, C-Video, Wi-Fi (optional)

Interfaces for remote control:


GigE vision, RS232, Trigger, Bluetooth (optional)

Dimensions (L x W x H):

190 mm x 90 mm x 94 mm (L x W x H, incl. 30 mm standard lens)
approx. 190 mm x 90 mm x 94 mm (L x W x H, incl. 20 mm standard lens)

Weight:

1.15 kg (incl. 30-mm standard lens)
-approx. 1.2 kg (incl. 20-mm standard lens)

Environmental conditions:

Operating temperature range: -25 °C ... +50 °C (operational)
Impact: 25G (IEC 68-2-29)
Vibration: 2 G (IEC 68-2-6)
Protection class: IP54